This article was written to discuss the different types of meal breaks employees' in California are entitled to under the law, as well as the compensation a worker who's been denied lunch breaks stands to gain when represented by a good attorney. Most employees who work more than 5 hours in a day know that they are entitled to a uninterrupted meal period of at least 30 minutes. But it CA's meal break laws are far more complicated than that.
That is why this page goes to extensive lengths to explain this area of law. Mr. Robertson made the below whiteboard video to detail CA's meal break law without legal jargon. But it is critically important that you read the rest of this page after watching the video. The video is simply an introduction, this page flushes out the things employees and employers need to know to stay on the right side of the law.
Lunch Break Laws in California
The section of law providing a worker's right to meal breaks can be found in CA's Labor Code § 512. The law supplemented with the CA wage orders. At it's basic level, the Labor Code says:
(a) An employer may not employ an employee for a work period of more than five hours per day without providing the employee with a meal period of not less than 30 minutes, except that if the total work period per day of the employee is no more than six hours, the meal period may be waived by mutual consent of both the employer and employee. An employer may not employ an employee for a work period of more than 10 hours per day without providing the employee with a second meal period of not less than 30 minutes, except that if the total hours worked is no more than 12 hours, the second meal period may be waived by mutual consent of the employer and the employee only if the first meal period was not waived.
An employer may not discourage or impede meal periods. If the employer has the employee do any work during his or her lunch break, the employee must be paid for it.
A companys' obligation is to relieve its employee of all duty, with the employee thereafter allowed to use the meal period for whatever purpose he or she desires. The 30 minute lunch break itself does not count as part of the hours worked (meaning its unpaid) if the employee is allowed to leave the premises and is relieved of all duty during that period.
That means no phone calls, no helping customers, no checking emails, no running errands for the boss on the way to pick up lunch. It means the employee is free to spend that time how he or she wishes.
While we cover damages extensively at the bottom of this page, it is worth noting now that an employer who fails to provide meal or rest periods as required by an applicable Wage Order must pay the employee one additional hour of pay at the employee's regular rate of pay for each work day that the meal or rest period was not provided. If the employer relinquishes control and the employee decides to keep working with the employers knowledge, then the employer must still pay the employees hourly rate, but not an additional premium.
Before you continue reading, sign up for our free monthly employment law newsletter! We will email you useful employment information that will help you protect yourself from workplace abuse.
Can an Employee Waive Their Meal Breaks?
Sometimes. First of all, the California Labor Code requires the employee and employer to mutually consent before a meal break can be waived. Second, as LC 512 clearly states above, in the case of an employee working more than 10 hours, the second meal period can only be waived if the first meal period wasn't waived. Third, if the employee will work between 5-6 hours, the employee and employer can mutually waive the first and only meal period.
While a worker can request that lunch periods be waived, it is unlawful for an employer to harass or intimidate a worker so as to discourage them from taking their legally protected lunch break.
Examples of Employers Who Ignored Meal Break Law*
A few years ago, the Los Angeles Times covered the story of a restaurant in San Francisco that primarily employed Chinese workers with limited English skills. In addition to making these employees work off the clock, the restaurant's owners also denied them rest breaks and meal breaks. In an interview with the paper, California Labor Commissioner Julie Su said that employers are often surprised when workers complain, explaining,
"they believe that it's cheaper to break the law because the chances of getting caught are slim."
In 2017, TJ Maxx was ordered to pay $8.5 million to California workers in a meal break case.
Back in 2014, there was a public-entity lunch break case that highlighted a worker's right to spend his or her lunch break uninterrupted. The LA Times told the story of Los Angeles sanitation workers whose lunch breaks were being unlawfully regulated.
In that case, the city had become so concerned about the appearance of trash truck drivers taking naps in their rigs during lunch breaks that it enacted a rule barring the practice. The city also enacted rules prohibiting workers from meeting more than one colleague during lunch due to concerns that a gathering of sanitation workers at a local diner might somehow be cause for concern.
This policy was in place for nearly a decade before the drivers sued the city, arguing that the sanitation bureau was inappropriately limiting their off-duty breaks. The court agreed with the sanitation workers, and ordered the city to compensate the drivers with back pay. The city settled with the drivers to the tune of $26 million.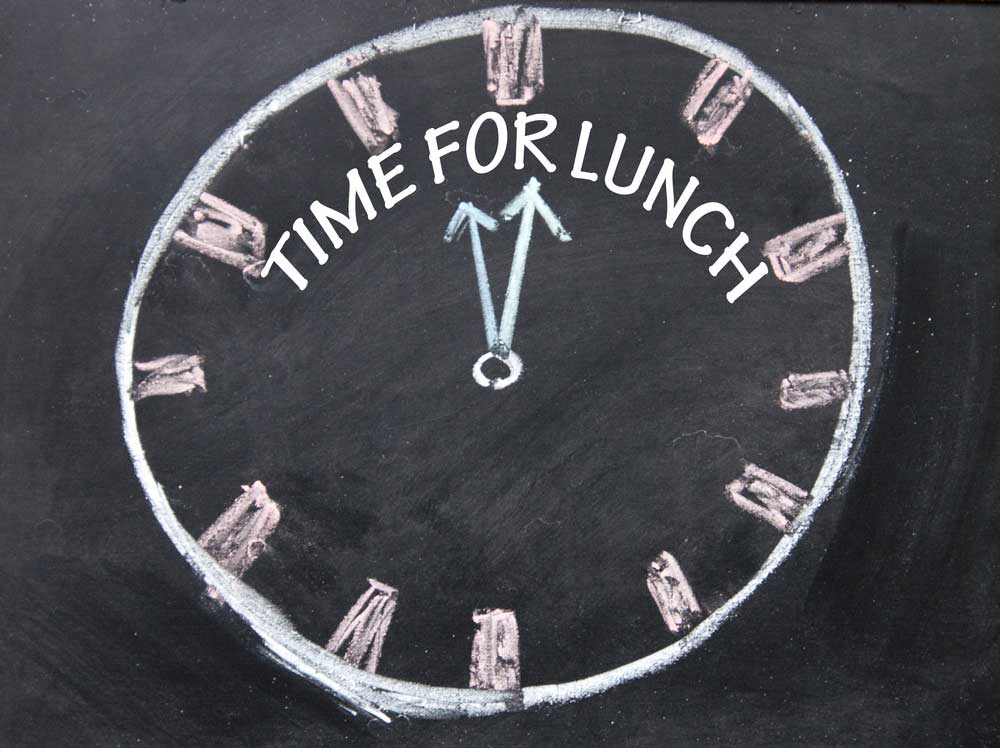 Do You Need a Lawyer for Lunch Breaks Violations?
Yes. The best way to explain why is using an example:
If you make $30/hr and your boss won't let you take a uninterrupted 30 minute meal break your boss is supposed to compensate you with one hour of premium pay ($30) on top of the hours you worked that day.
Now most people wouldn't sue their boss for $30. However, you might want to sue your boss if your boss consistently violates the rule. That $30 penalty applies per day per meal period. And if you add them all up, that could be a lot of money. If you've been denied a meal break every day for the past three years you could be owed $22,500.
If you add that to a few other wage and hour violations, such as rest break violations, unpaid overtime, or record keeping violations, that number could hit $100,000 with ease. That might motivate you to contact our employment attorney.
If you are dealing with an employer who is making you work on your lunch breaks, it is suggested you contact a good lawyer. A good lawyer will be able to look at your situation, and inform you of the opportunities you have to recover lost wages — opportunities you might miss when filing a complaint on your own. In addition, a good attorney will know the best way to either reach a settlement in your case, or put the pressure on to win your case in court. Our office is located in Orange County, but we serve clients throughout all of California.
What Can an Employee Recover in a Lunch Break Violation Lawsuit?
While it's impossible to predict a specific dollar amount when a person wins a settlement or judgment against an employer, it's possible to discuss the different types of compensation a worker might be entitled to.
As mentioned earlier in this article, an employee might be able to collect back wages for the time spent working during lunch breaks.
In cases where an employer has retaliated against a worker for reporting the violation, there are a number of different remedies. For instance, if the worker was wrongfully terminated for reporting a violation, he or she might be entitled to lost wages. A hypothetical example of this type of compensation might involve a person making $50,000 a year. If that person were unable to find work for three years after the wrongful termination occurred, that person could potentially recover $150,000 in lost back wages.
Workers who suffer from physical and emotional ailments as a result of harassment or retaliation due to violations of lunch and break rules, could potentially collect pain and suffering damages. These can be substantial, and are often the largest part of a case. Pain and suffering can occur in a number of different forms and includes: headaches, nausea, depression, anxiety, insomnia, and other ailments.
In rare cases, an employee might be able to recover punitive damages. These types of damages were designed to punish the employer and prevent the violating behavior from ever occurring again. While these types of reward often result in high judgments, they are difficult to achieve because the worker must show that the employer acted with fraud, malice or oppression.
Contacting an Attorney
There are a number of reasons why a person who believes they've been treated unfairly by an employer should contact an attorney. Not least among these reasons is the fact that employers are more likely to take a lawsuit seriously if the employee is properly represented by an attorney who has a solid track record of victories and settlements in employment cases (as this office does).
Furthermore, in addition to having knowledge of the law, a good lawyer will also be a skilled negotiator. This could prove helpful in achieving settlement and avoiding the ordeal of a court trial. An employee typically has little to lose in contacting a lawyer as most employment attorneys provide free consultations. Additionally, attorneys frequently take cases on a contingency basis, which means the client doesn't pay out-of-pocket expenses.
If you have questions about California lunch break or rest break rules, or some other legal employment question. Contact our office to see what we can do to help you.
* Mr. Robertson was not involved in any of these cases and they should not be seen as a guarantee or promise as to the result you may achieve in your case.
Additional Information
If you want to get more information about California employment law, sign up for our free newsletter. We will send you up-to-date information about overtime, wrongful termination, retaliation, and much more. To sign up just click the below link.
I hope this page has been helpful in your search for information.
SaveSave
SaveSaveSaveSave
SaveSave
SaveSave
SaveSave